GREEN POWER SUMMIT 2023
Promoting Clean Energy for a Sustainable Future
GREEN POWER SUMMIT 2023 brought together international experts, national government authorities, clean energy leaders, investors, business owners, technology developers across the entire energy value chain to explore new opportunities and challenges facing Romania in the new era of green power.
This high-level event – dedicated to the advancement and development of sustainable energy sources in a net-zero world – pointed out Romania's position as one of the most promising markets for renewable energy in the region. Yet, there are still several amendments to the regulatory framework needed in order to remove the current bottlenecks. Not to mention the limitations and uncertainties due to the complicated economic and geo-politic context.
In the opening of the conference, OANA-MARCIANA OZMEN – Secretary of the Committee for Industries and Services, PARLIAMENT OF ROMANIA, noted Romania's nominalization as one of the first countries in the world to regulate the hydrogen market. In this way, Romania gains visibility so that investors see our country as a serious target for this lucrative business opportunity.
For his part, GEORGE-SERGIU NICULESCU – President, ANRE, announced a new star in the energy market – prosumers, and remarked the growing appetite of investors for opportunities in Romania's renewable energy sector. He also highlighted that Romania is invited, for the first time, to take part in the Global Wind Offshore Regulators Forum (GWORF), held in Washington during October 24-26, 2023.
Unlocking Romania's Sustainable Energy Potential (I)
The first session of the conference provided the audience with a global view on Romania's sustainable energy potential, which will help to understand the determinants and specifics of this important industry sector.
While MIGUEL ANTONIO JIMENEZ – CEO, AJ BRAND CONSTRUCTION, explained the importance of clean energy for a sustainable future, ADRIAN STAN – Founder, AJ BRAND CONSTRUCTION, talked about the company's challenges during the ongoing and upcoming projects in Romania. He underlined the most significant factor alongside the energy transition for a clean planet: the cultural transition. With an extended experience around the world, Miguel Antonio Jimenez reminded that quality is paramount for developing the RES market in a proper way.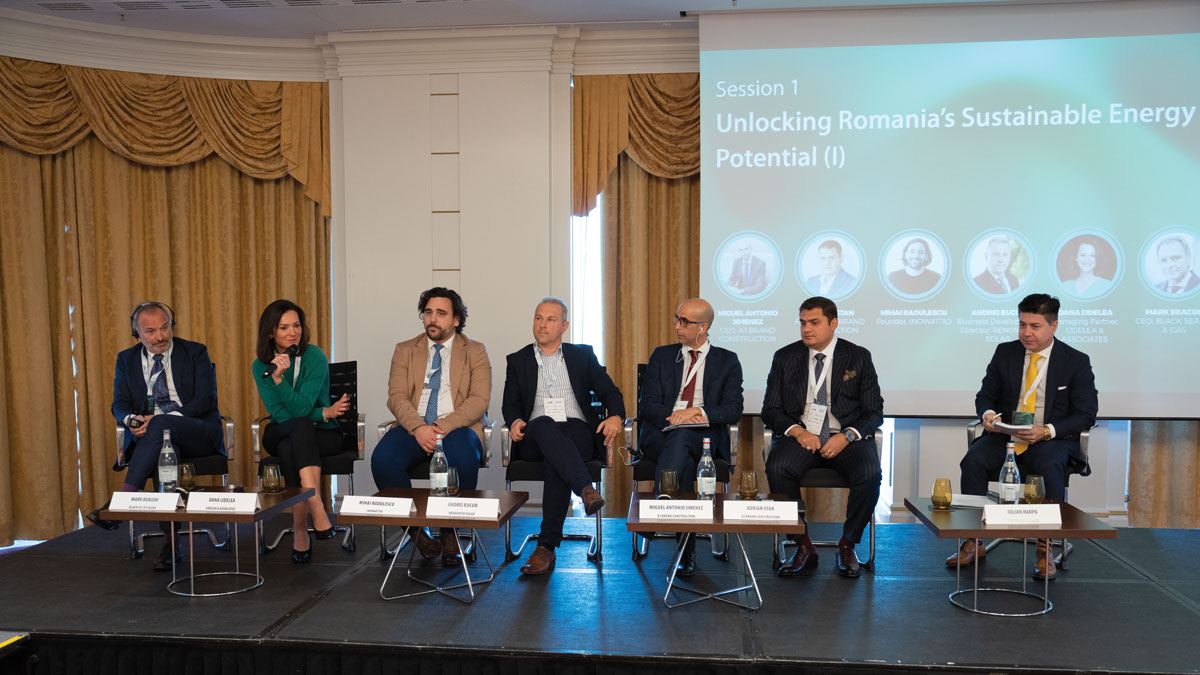 The key actions for transition towards green PV energy were highlighted by ANDREI BUCUR – Business Development Manager, RENOVATIO SOLAR, who insisted on responsible operation and maintenance.
Empowering the energy of the future also requires blockchain and IoT for distributed renewable units, remarked MIHAI RADULESCU – Founder, INOWATTIO. According to him, the holistic approach to energy management, a cloud-based information technology, enables cost and consumption optimization along the entire value chain and also avoids destabilizing the energy system.
Equally critical for the green energy transition is the regulatory framework, whose advantages and opportunities were discussed by OANA IJDELEA – Managing Partner, IJDELEA & ASSOCIATES. From her point of view, Romanian PV market has gained some maturity over time.
Talking about Romania's offshore wind potential, MARK BEACOM – CEO, BLACK SEA OIL & GAS (BSOG), assessed the main challenges of integrating renewables into the power grid, as the company develops a new project. This is a power corridor in the Black Sea along its existing MGD Project infrastructure to connect future offshore wind farms to Transelectrica's national power grid (SEN). BSOG's interest in solar, biogas and hydrogen projects was also mentioned.
Financial Tools & Strategic Planning to Scale-up Renewable Energy in Romania
Starting discussions on financial instruments and strategic planning to scale-up RES, CIPRIAN GLODEANU – General Manager, AJ RENEWABLES, disclosed some tips and tricks for developing RES projects and attracting investors. He didn't miss to remark the ongoing issue with renewable energy projects on extra muros plots of more than 50 hectares.
DANIEL VLASCEANU – Partner, VLASCEANU & PARTNERS, completed the big picture with practical implications of the EU and Romanian legal framework. He addressed the issue of Guarantees of Origin (GO) in the field of renewable energy, noting that the Romanian Wind Energy Association (RWEA) and several other associations requested the Ministry of Energy to initiate the procedure for ANRE to join the AIB (Association of Issuing Bodies), with a view to recognising guarantees issued in Romania in cross-border transactions.
Romania's renewable energy potential was also praised by FLORIAN KNEIDINGER – Managing Director, KRAFTFELD ENERGY. Commenting on the unlocking of the full grid connection potential, he noted, despite still limited capacity, good intentions from the national authorities. "Romania is doing a really good job," Florian Kneidinger concluded.
As far as PHOTON ENERGY is concerned, LAURU BADITA – Country Manager, pointed out the main challenges on the way to powering up and commissioning solar power plants. In terms of generating new capacity, he noted that there are some communication problems within distribution system operators (DSOs) and the permitting process is becoming more difficult. However, the company managed to commission its first utility-scale PV plant in Romania this year in February.
JAIME VÁZQUEZ – PPA Director, ECONERGY RENEWABLES, continued the discussion on Guarantees of Origin in Romania, adding the Power Purchase Agreements (PPAs), another highly debated subject these days. He also mentioned the largest solar power project in Romania (Ratesti), developed together with Nofar Energy and slated to be officially inaugurated on October 31, 2023.
Unlocking Romania's Sustainable Energy Potential (II)
Advancing discussions on Romania's sustainable energy potential, LEONARD TRIFU – Marketing Manager, INCDT COMOTI, presented the main capabilities of the Romanian Research & Development Institute for Gas Turbines. One of the topics of his speech was Hidrocomb – an experimental model of turbulent flame combustion chamber fuelled by hydrogen-enriched natural gas. Hydrogen represents a possible alternative gas turbine fuel within future low-emission power generation if it is produced from renewable energy sources.
RIG SERVICE shares common interests in renewable energy, wind projects & solar farms, according to CIPRIAN DRAGAN – Project Director, who talked about the company's major projects in this sector. He also mentioned the benefits of an innovative & easy cleaning solution, unique among robots on the market – Autodrive (similar to cruise control in a car).
In his speech, ADRIAN DOBRE – Country Manager, EUROWIND ENERGY ROMANIA, focused on company's future plans in Romania and highlighted its greatest project in our country – Pecineaga wind farm, expected to be commissioned in 2024. The company has a solid pipeline of future projects under development in Romania, which Eurowind considers an attractive growth market in Europe.
From ANDREEA GILICEL – Financial Manager, NOFAR ENERGY ROMANIA, we found out about financial instruments and support for renewable energy projects. She underlined one of the main needs of entrepreneurs – predictability, a crucial component of any successful implementation.
MIREL JARNEA – Business Development Manager SEE, LONGi SOLAR, added value to the conversation with the assessment of the renewable equipment market evolution. He noted that there is some good news – several projects in Romania reaching maturity, despite labour force issues, fast development of prosumers, and as far as the legislative framework is concerned, we may replicate functional foreign models.
EV charging networks represents a key component of a green energy system, facilitating sustainable transportation, showed ELENA MANDACHE – Marketing Manager, ELDRIVE ROMANIA. The company has national coverage and is constantly working on expanding the charging network, both in cities and on roads. Eldrive's goal is to become the most important player in Romania on the electric vehicle charging market.
European energy trends: Investing for sustainability impact
One of the most awaited panels, chaired by OANA-MARCIANA ÖZMEN, included topics such as EU, regional and national sustainable energy policies, Romania's place on the European green power market, government support to stimulate and increase green investments, green power & hydrogen solutions for global zero-carbon development.
The Secretary of the Committee for Industries and Services highlighted the role of gas networks during the energy transition, hydrogen investments by the largest private equity fund, and Romania's industrial transformation.
GEORGIAN ALBU – Corporate Affairs Expert, E.ON ROMANIA, explained how gas distribution system operators (DSOs) can enable the energy transition and ensure security of supply. Gas will remain an important part of the energy system and therefore needs decarbonization, green alternatives for gas being mentioned. Delgaz Grid blending project as a bullet proof investment was presented to the audience.
The investments executed by the largest private equity fund dedicated to hydrogen were presented by ALEXANDRU FLORISTEAN – Director HY LEGAL & Operating Partner, FIVE T HYDROGEN. He underlined that Romanian industry needs affordable, secure, and decarbonized energy and the renewable energy sector is ready to deliver massive projects. Hydrogen will be key to unlocking new energy generation capacity (which is needed in large quantity), meeting the needs of industry while also by-passing electricity grid bottlenecks. As always, predictable and supportive legislation (both primary and secondary) will be essential to ensure that projects mature sufficiently to allow final investment decisions, Alexandru Floristean said.
In the opinion of MIHNEA CATUTI – Head of Research, ENERGY POLICY GROUP, hydrogen is becoming a serious industry and a growing market attracting billions in investments. Hydrogen should contribute to decarbonising industries such as steel and fertilisers, and some segments of long-haul transport. The recent clean hydrogen developments in Romania have started attracting international attention, he noticed.
EUROPEAN ENERGY's vision on the path to a sustainable future – Power-to-X was revealed by IOANNIS KALAPODAS – Head of Romanian Office. The Danish renewables developer is screening for projects in 29 countries and has actual development activities in 19 out of the 29 countries. In 2022, the company opened 8 new offices, and now has a total of 23 offices across 18 countries. In Romania the total capacity under development reaches 2,046MW. With an impressive portfolio of over 1GW of renewable energy projects, European Energy has major investments in solar, wind, green hydrogen, and Power to X technology, plus investments in CO2 capture, and since 2021 the company has been successfully developing renewable energy projects in Romania.
As a conclusion, hydrogen is a key priority for the European Green Deal. The strategy's vision for a climate-neutral European Union is expected to increase the share of hydrogen in the European energy mix to 13-14% by 2050.
For Romania it is extremely important to remove any legislative hurdles that might hinder the development of a hydrogen-centric economy. At the same time, specific legislation for hydrogen-ready networks is needed, reflecting costs, and providing incentives to boost investment.