ATLAS COPCO RENTAL Temporary Steam Solution
How to rent the right steam solution for your project?
Steam is a vital utility for processes in food and beverage, (petro)chemicals and paper. If you have a temporary need for steam – due to planned maintenance, an increase in production, or unexpected outages – ATLAS COPCO RENTAL has a reliable, safe and regulatory-compliant solution on rent. For maintenance, testing or temporary production increase – they make sure you receive a customized solution to keep your production running full throttle.
Atlas Copco will work with you to choose the right accessories – fully tailored to your needs – for your boiler. Whether it be a simple hose, a fired superheater, or even a feedwater tank, they offer everything you need for your temporary steam boiler installation. They can also provide the full range of services, including design plans, 3D scanning, logistics, installation, wiring, start-up and training.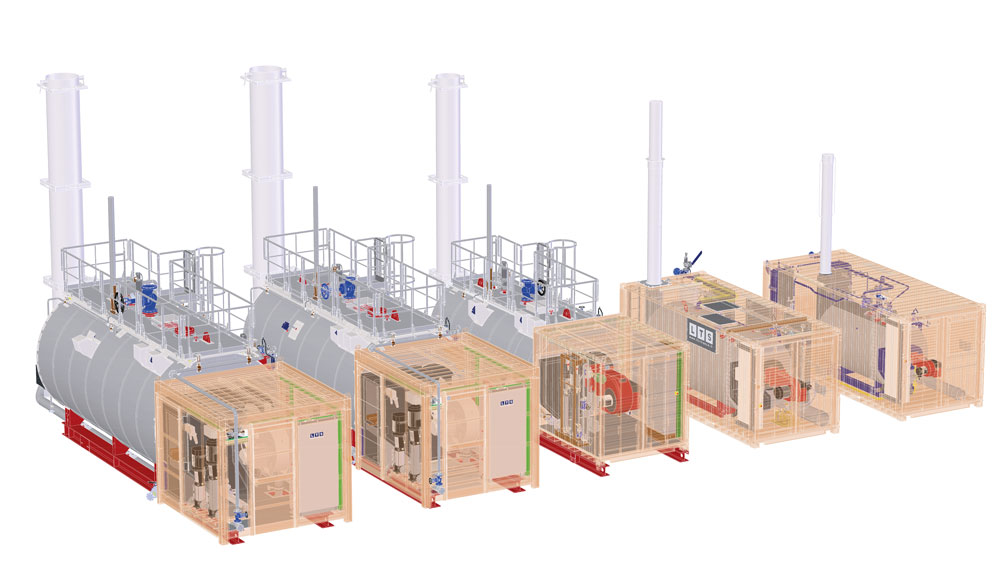 Atlas Copco's steam boiler fleet has containerized dual-fuel burner boilers (natural gas or light fuel oil) that can run autonomously for up to 72 hours. These reliable industrial workhorses have the highest fuel-to-steam efficiency on the market thanks to the optional smoke economizers and are ideal for applications such as distillation, cleaning, heating, and various processes in the food industry. Superheated up to 400°C thanks to mobile electrical, integrated or flame superheaters.
Hypermobile steam boilers up to 6 t/h
Maximum capacity ranging from 1,300 kg/h to 6,000 kg/h
Maximum steam pressure up to 25 barg
Mobile steam boilers up to 16 t/h
Maximum capacity ranging from 12,000 kg/h to 16,000 kg/h
Maximum steam pressure up to 25 barg
Delivered with a special convoy for easy transport and rapid set-up
Increased efficiency up to 96% thanks to smoke economizers
No matter the size, Atlas Copco's robust industrial steam boilers are delivered ready to use, with all the necessary ancillaries for safe, rapid installation and start-up. Depending on your application, these boilers can be equipped with accessories like feedwater tanks (hot wells), steam superheaters, pressure reducers, hoses, piping, and more.
Atlas Copco's trained engineers are available 24/7 to install certified and safe solutions on any site. They can handle all services ranging from logistics to installation to designing your perfect solution in 3D!
Atlas Copco is always offering more than just machine!
For any questions or requests, please contact:
Mobile: +40728 500 607